Editor's note: Welcome to Resource Actions, our occasional, back-and-forth column covering everything from the bizarre to the day-to-day that, despite everything, impacts HR departments. Please feel free to send all tips, thoughts and Super Bowl predictions to [email protected] and [email protected].
Ryan Golden: Kathryn is just the biggest football fan, HR Dive readers. She's been waiting for an epic QB matchup like this to take place in the big game for years. Right Kathryn?
Kathryn Moody: Unless you mean the incredible matchup between gif-makers and Madden 2016, I'm afraid I don't know what you are talking about.
I stopped caring about the Super Bowl once the Indianapolis Colts stopped making the cut, meaning I will be a guaranteed presence at work the next day (however, go Falcons).
But what about your employees? Is the Monday after the game going to be a mysterious "flu day" or is everyone planning on showing up in a miserable state of post-alcohol no-sleep?
Weirdly enough, it depends on who hands over the statistics.
In 2016, a survey conducted by The Workforce Institute at Kronos revealed that as much as 10% of the workforce may have missed work the Monday following Super Bowl Sunday. That's some 16.5 million adults employed in this country, with an additional 7.5 million potentially showing up late. By this time in 2016, 10.5 million had already asked for the following Monday off.
A study from Captivate offers a more positive take. In their survey of 8,000 consumers, 89% said they plan to be at work and on time the day after the Super Bowl (you see that that matches up nicely with the 10% that may be out). Only 26% feel that the Monday after the game should be a national holiday — but 12% of "male business professionals" have already taken that Monday off, so it's a moot point for them I guess. 
But honestly, statistics about alcohol consumption on Super Bowl Sunday may better predict the state of Monday's office. A Stevens Institute of Technology study estimates that Americans drink 325 million gallons of beer that day alone. The nickname "Hangover Monday" may be sadly, painfully accurate, regardless of presenteeism. 
Either way, Monday will be ... interesting. Managing the workforce on Feb. 6 may require a little bit of understanding from HR managers everywhere.
Ryan Golden: They'll need to consider gambling policies as well. In the run up to last year's championship contest between Denver and Carolina, the American Gaming Association estimated that bets on the game would exceed a whopping $4 billion.
Sunday's game will draw more than that, but the larger point for employers is that the vast majority of Super Bowl betting (indeed, any betting on sports outside of Nevada) is *gasp* illegal.
That includes office betting pools circulating around this time of year. A majority of employees who responded to Captivate's survey (62%) said they would not participate in either a Super Bowl betting pool or Super Bowl 'box.' The employee group most willing to gamble, on the other hand, were Gen. Xers, 44% of whom planned to take part in an office pool or box.
So how stringent should HR be? In the past, we've looked at fantasy sports leagues and their impact on the workplace, noting the productivity losses involved. On the upside, such things can bring members of an organization together and improve workplace culture. That's why managers rarely speak out against them.
And, really, HR folks do have more important things to worry about than busting the office pool speakeasy. But if your organization does take a serious stance against gambling, in any shape or form, you'll need to make sure those boundaries are made clear, lest your situation turn into something more akin to this poorly executed snap.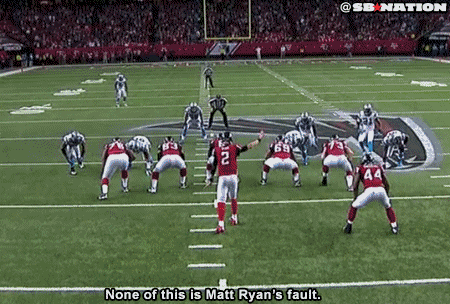 Back to things more interesting than the varied faces of Bill Belichick. Super Bowl LI should be high-scoring and highly rated. But one of the may subplots to this year's edition actually proves relatable to the HR profession in several ways.
Here's the gist for non-football fans: Atlanta Falcons Offensive Coordinator, Kyle Shanahan, has been so good this year that he's locked in to be the next head coach of the San Francisco 49ers, before his tenure with his current team has even ended.
It's a dynamic that serves to remind all employers about the right way to leave a job. Think about it: In 2017-18, Shanahan will work to build relationships with a new team, culture and ownership staff. Executive onboarding in the business world is no different; the manner in which you hand over the keys to a new CEO or executive has a permanent impact on the way they view their new work environment, for better or worse.
The same is true for "transboarding" operations when candidates are promoted from within (as they often are when NFL coaching vacancies arise). By providing motivated, promising employees with the right amount of time and resources, HR departments can retain and improve the talent that already exists on their organization's sideline.
Just a few thoughts as you prepare to watch the kickoff ... or just the Lady Gaga halftime show. That sounds like it'll be fun, too.