January 19, 2022
Press Contacts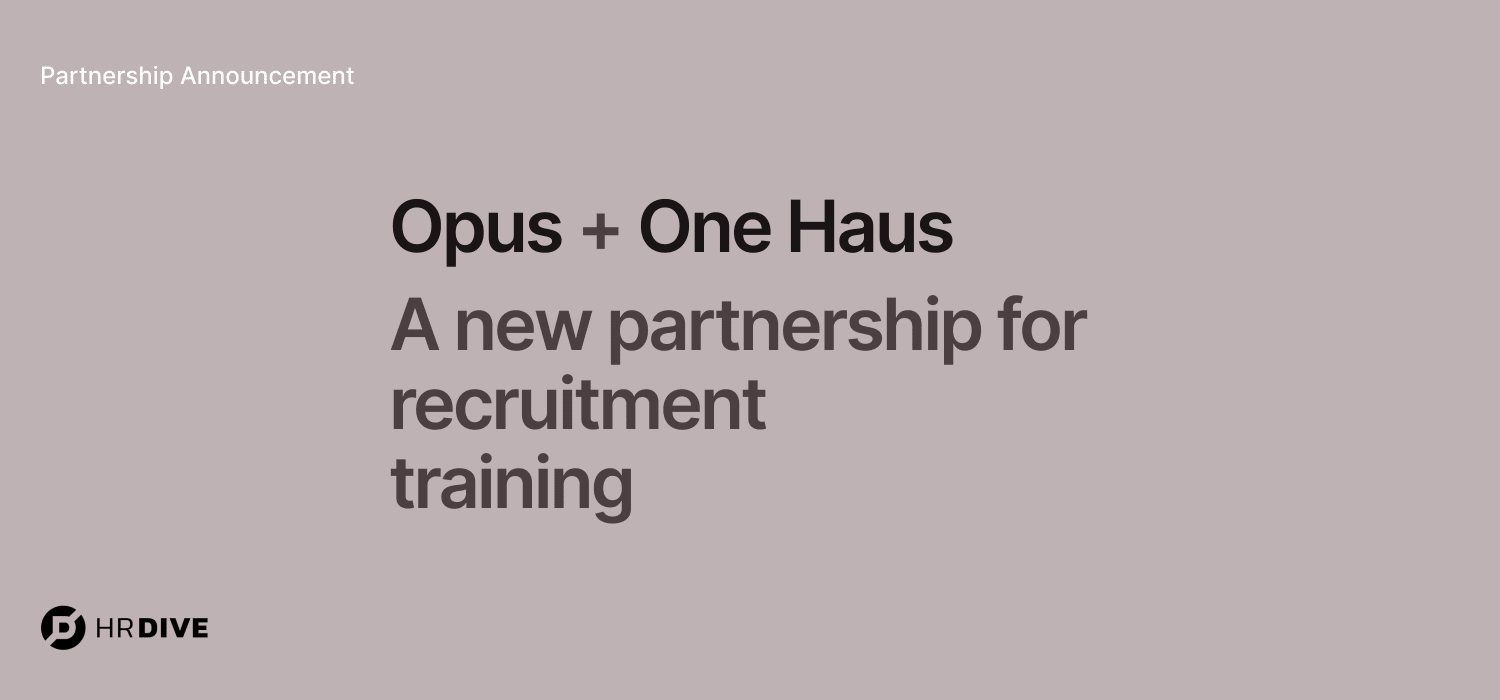 NEW YORK —
Opus Training, the leading mobile-first training solution for employers with a "deskless" workforce, has announced an ongoing partnership with One Haus, a leader in restaurant recruitment services.
The partnership will allow Opus to offer One Haus recruiting training courses to its customers, including restaurant owners and managers, to attract talent and build healthy and inclusive talent pipelines. The first course is called "Inclusive Hiring Practices", available in the Opus course catalog. This exclusive offering gives managers practical tips for attracting, interviewing, and hiring frontline employees while meeting modern standards for diversity, equity, and inclusion practices.
One Haus and Opus currently support thousands of restaurant locations nationwide. Opus has built proprietary technology that helps employers create, distribute, and track on-the-job learning in a way that is accessible to 100% of their workforce. Opus has helped multi-unit operators take their training from paper to digital quickly through their mobile app. One Haus maintains a focus on sourcing and placing top talent, and strives to build and nurture a diverse and inclusive workplace culture.
"We are thrilled at One Haus to partner with Opus and assist with the development, career progression, and recruitment & retention skill-set building of professionals in our beloved industry. Is there a more relevant topic in hospitality right now than staffing strategies, how to retain talent, and how best to transition into this new post-covid work environment? I don't think so! Opus's platform is the perfect marriage of "tech & teach" we have seen." Mike Hewitt, Founder/CEO of One Haus
"One Haus is honored to partner with Opus in the creation of content to help support the ongoing training of hospitality professionals via a fun, interactive, mobile-first, chat-based training platform. In the fast-paced world of hospitality, having quick access to easily digestible micro lessons helps operators train up staff quickly and efficiently without interruption to the business - it's genius! We are excited to share our knowledge with Opus users and help them refine their recruitment and retention practices!" Agatha Kavanaugh, President of One Haus
"We've entered a new era of training in restaurants. The war for talent is the most pressing issue facing our industry today. There is no more important a time than now than to help the industry build a talent pipeline that endures. Partnering with Mike and the team at One Haus is an amazing opportunity to deliver relevant, interesting training to the people who need it most - future leaders." Rachael Nemeth, CEO of Opus
One Haus is a value-driven, recruiting company, providing food & beverage operators with a highly tailored and confidential talent sourcing experience, and Human Resource strategy. One Haus has a nationwide scope, with offices in New York, California, Florida, Connecticut, Texas, North Carolina and, New Jersey. Drop by and find out more at www.one-haus.com.
Opus is the leading mobile-first training solution for businesses with "deskless" employees. With technology specifically built for the 70% of the American workforce that doesn't sit at a desk, Opus helps employers engage and train their frontline while increasing output and retention. This allows them to position themselves as employers of choice. Learn more at www.opus.so.
###
About
Opus is the leading mobile-first training inclusive solution for businesses with "deskless" employees. Opus helps employers engage and train their frontline, helping them to start, stay and grow into lasting careers.