December 01, 2021
Press Contacts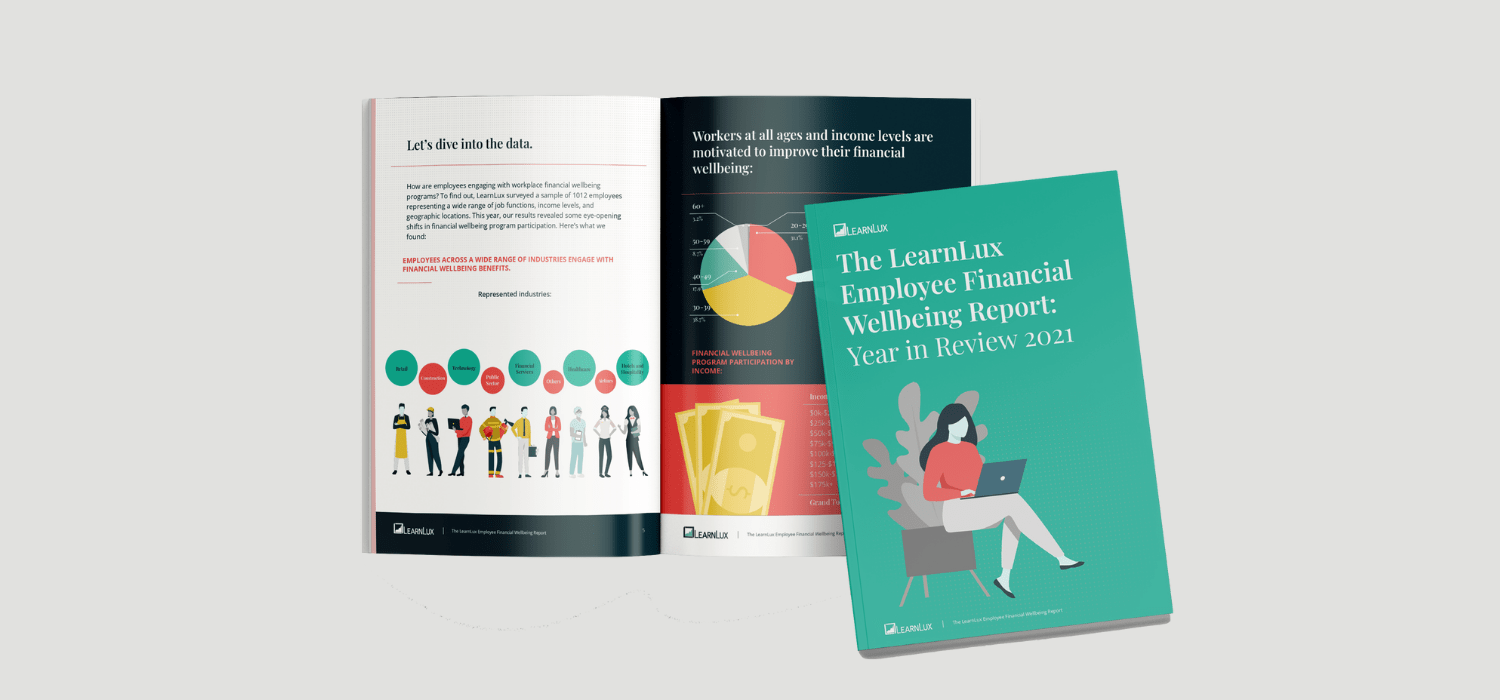 BOSTON —
Leading workplace financial wellbeing program provider LearnLux announced the launch of The Employee Financial Wellbeing Report: Year in Review 2021 today. The report is a culmination of a year's worth of employee engagement and insights from the LearnLux financial wellbeing program that blends digital guidance with in-house Certified Financial Planner™ professionals. Experts explored thousands of aggregated, anonymized data points from October 2020 to October 2021. Where patterns emerged, LearnLux looked to their team of financial experts to validate the findings. The analysis covers six key categories: Stress & Confidence, Behavioral Finance, Goals, Education, and Expert Guidance.
"For many employees, 2021 was a financial rebuilding year after economic unrest and increased healthcare spending rocked their families," says Rebecca Liebman, CEO and Co-Founder of LearnLux. "We are seeing early indicators that employees are rebuilding emergency savings, thinking about long-term goals again, and making strategic benefits decisions to protect their families in the upcoming year. This report provides a front-line look into how employees are feeling financially, and how they are planning for the future. We are proud to be able to share this important data with HR and benefits teams, to guide their strategic decisions in the year to come."
Insights from the report show 92% of employees feel financially stressed across all income levels, ages, demographics, and industries. When given the opportunity, employees from age 19 to 60+ and across all income levels engage with financial wellbeing programs including both digital guidance and calls with financial planners. Employees that participated in their LearnLux financial wellbeing program offered at no cost by their employer rated their overall experience a 9.7 out of 10.
The report also explores trends for 2022 that HR and benefits teams should consider for their financial wellbeing strategies. Following the financial shocks that rocked many American families in 2020 and 2021, building (or re-building) emergency savings will be a top employee priority. Cashflow changes for employees that continue to work from home or in hybrid arrangements will also be top of mind.
Additional data points and insights are available in The Employee Financial Wellbeing Report: Year in Review 2021.
###
About
LearnLux is the leading workplace financial wellbeing provider that blends fiduciary digital planning with access to one-on-one guidance from Certified Financial Planner™️ professionals. LearnLux's award-winning program equips employees with a financial plan to guide them through decision points like budgeting, paying down debt, electing benefits, understanding equity compensation, starting a family, buying a home, saving for retirement, and more. Advanced reporting keeps our partners in the know, and drives results like reduction in financial stress, increased productivity, reduced employee turnover, greater use of pretax products, on-time retirement, and healthcare savings. LearnLux members feel great about their money, allowing their work and wellbeing to thrive. Learn more at learnlux.com.