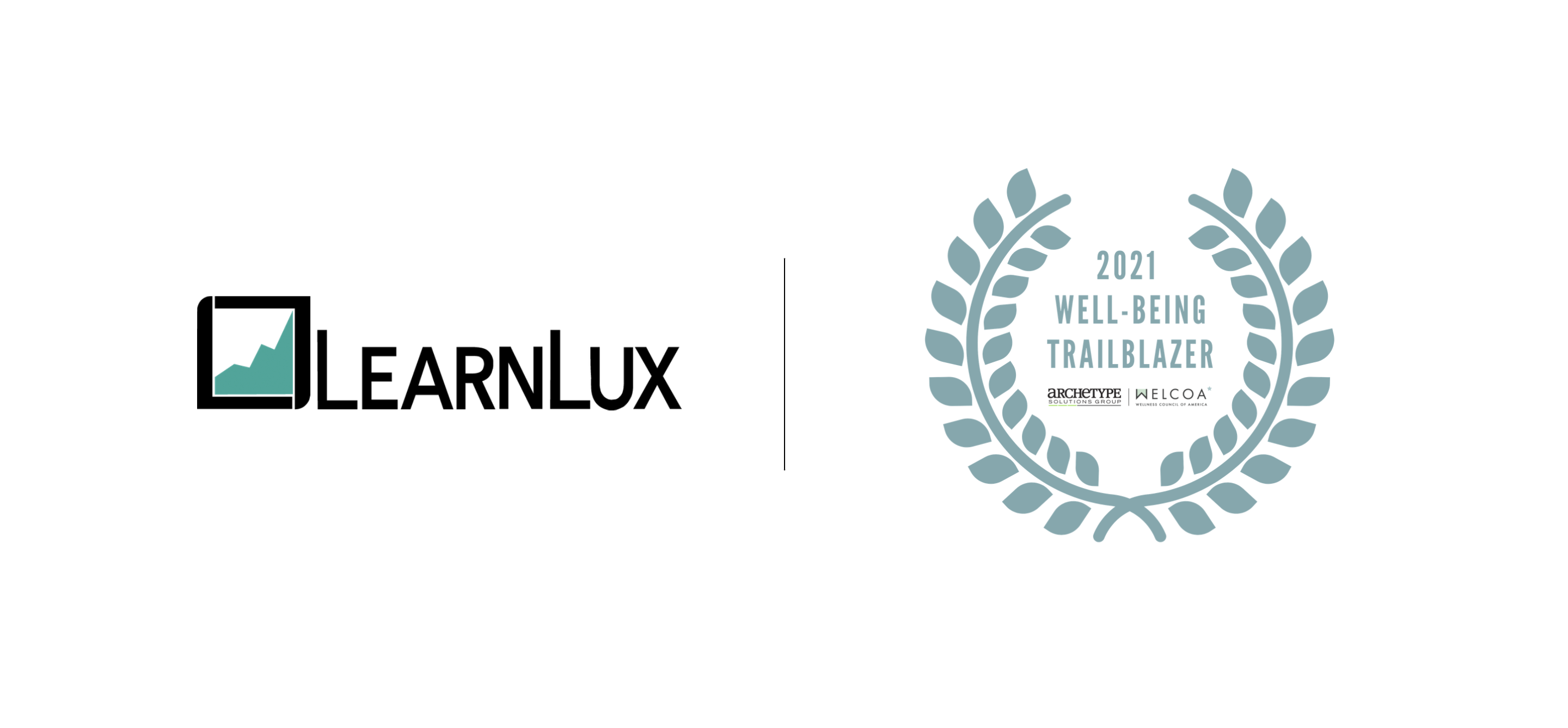 BOSTON —
Today the Wellness Council of America (WELCOA) has announced that LearnLux is a 2021 Well-Being Trailblazer Award recipient for their financial wellbeing program that blends interactive content, digital planning, and access to Certified Financial Planner™ professionals.
This first-ever Well-Being Trailblazer competition sought to find and award the nation's most innovative worksite well-being companies. After a rigorous review, Archetype Solutions Group and WELCOA selected LearnLux from a pool of hundreds of entries across mental, physical, career, and financial wellbeing programs.
"Today, workplace health companies need to innovate to meet the unprecedented and growing challenges every employee faces to stay well. Each Trailblazer we have selected this year is making a demonstrable impact through their product or service, and they have done so in unique ways," says Chetan Bagga, CEO at Archetype Solutions Group.
LearnLux is one of four Well-Being Trailblazers who are designing solutions for holistic wellbeing. Each solution recognizes that employees already want to be well, and are innovating to reduce barriers that get in the way of humans thriving and flourishing. Award recipients also include Wellview Health, Peerfit, and Unmind.
"To pioneer a new future of financial wellbeing, LearnLux is taking a radical approach to democratizing access to expert guidance. We are blazing a trail that smashes stigmas, revolutionizes the tools we use, and says no to selling products or data" says Rebecca Liebman, CEO of LearnLux. "Our team is very honored to receive the Well-being Trailblazer award, and we will continue paving the way for financial wellbeing to be inclusive, equitable, and a core offering at the world's best workplaces."
About LearnLux
LearnLux is the leading provider of workplace financial wellbeing that blends fiduciary digital guidance with Certified Financial Planner™️ professionals. Their award-winning program equips employees with a financial plan to guide them through decision points like budgeting, paying down debt, electing benefits, understanding stock options, starting a family, buying a home, saving for retirement, and more. For employers, setup is a breeze with white-glove customer support that drives adoption and engagement. Advanced reporting keeps HR teams in the know, and employers see results like reduction in financial stress, increased productivity, reduced employee turnover, greater use of pretax products, on-time retirement, and healthcare savings. With LearnLux, employees feel great about their money, so their work and wellbeing can thrive. Learn more at learnlux.com.

About WELCOA
The Wellness Council of America is one of the nation's most-respected resources for building high-performing, healthy workplaces. With a 30-year history, more than 4,000 corporate members, and 30,000 additional members and subscribers, WELCOA has an impeccable reputation for helping business and health professionals improve employee well-being and create healthier organizational cultures.
Media Contact:
Shannon Cummings
267-338-4213
SOURCE Archetype Solutions Group